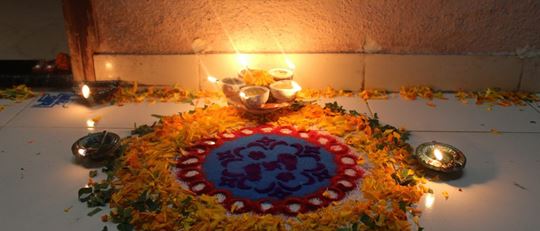 Today we celebrate Diwali!
Many people know Diwali as a festival of light, but what is it and who celebrates it?  Here are some fun facts:
Fact # 1 -  Diwali is celebrated by more than one faith!
Unlike Christmas which is celebrated by Christians, or Eid which is celebrated by Muslims - Diwali is celebrated by Hindu's, Sikh's and some Buddhist too.
Fact # 2 - Diwali is not celebrated on the same day each year.
When Diwali falls depends on the cycle of the moon, Diwali is celebrated in October/November when the moon is full and the festival lasts for 5 days.
In 2019 Diwali is celebrated on Sunday 27th October.
Fact # 3 - Diwali is celebrated for different reasons.
Hindu's celebrate the goddess of wealth - Lakshmi.  The lights are to attract her into your home to bring prosperity for the year ahead.  But others celebrate Diwali as a celebration of goods triumph over evil - when Gods Rama and Sita defeated the evil king Ravana.
Fact # 4 - Diwali is fun
People celebrate Diwali by decorating their homes, having fun with family and friends, eating treats, exchanging gifts and with fireworks too.
Fact #5 - You don't have to celebrate Diwali to experience it
The largest Diwali festival outside of India is right here in the UK.  Leicester has a wonderful series of events throughout Diwali which are free and open to all.
Birmingham too has Diwali celebrations in the city centre which are open to all to enjoy.  So why not go and experience Diwali's beauty and lights for yourself.
You may also find interesting...
Call us
Call us on
01234567890
Out of hours
01234567890
---
Email us
You can get in touch by filling out our online enquiry form with any queries that you may have.