Why is there a need for foster parents from different backgrounds?
We're always looking to build a wide and diverse 'pool' of foster parents to call on. As an inclusive organisation we welcome applications from everyone.
As we specialise in faith-based fostering and supporting children from black and ethnic minority communities, we especially welcome applications from people from these backgrounds – particularly as we're experiencing a growing demand for our expertise.
According to the Office for National Statistics, there are approximately 79,000 children in foster care across England. Of these, 5,370 are from Muslim, Hindu and Sikh backgrounds with a further 1,780 of Asian mixed race.  Similarly, 8,440 are Black African/Black Caribbean, and 4,400 more are Black mixed race.  That's the equivalent of 25% of all children in foster care, which is what makes our service, so important.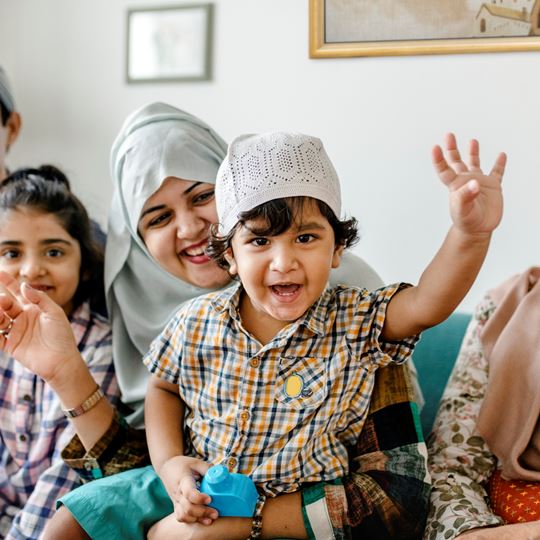 An inclusive approach to fostering
But it doesn't stop there, we also look after White British children, of faith and none faith, which is why we have developed our inclusive fostering approach.
Everything we do is geared towards helping all children reach their full potential. For children from minority ethnic backgrounds or with specific religious or cultural requirements, this means being supported by people who understand their needs and experiences. The support of foster parents from these communities is vital to us.
Able to call on a wide range of ethnicities in our team, we also have staff that can speak other languages other than English, so you'll always have access to the support you need, when you need it. However, it is important that you can speak in English, as a foster parent, you'll need to communicate with others outside of ACS about any child you care for.
We are focussed on diversity and inclusion, we do everything in our power to help children and young people and their foster parents develop in a warm and welcoming environment built around their needs.
Want to know more?
Below we answer specific questions in relation to different circumstances, or if you would like to take your first step to becoming a foster parent - we'd love to hear from you.
Find out more based on your own faith or cultural background.
Do you have faith?  Join us and have faith in fostering too!
Whether you're ready to start your journey or just want to chat to an expert, we're here to talk.
Frequently asked questions
Do I need any special qualifications to foster?
Special qualifications are not needed as we will give you all the support and training you need.
Can I foster if I have kids?
Yes you can as long as you have a spare bedroom as a foster child can't share a room with your own birth children. We match children to families very carefully, so if you have your own birth children we will ensure there needs are looked after too, this can affect the number of children we can match your family too.
I can't drive, does this mean I can't foster?
Being able to drive is a big advantage, children often need to be transported to school and contact and as a foster parent you must attend training and meetings. If you live in an area with excellent transport links you may be able to foster without having your own transport, but for most foster parents a car is a necessity.
Regular supervision with your very own dedicated social worker
Generous fostering allowance and bonuses
Local support where you need it
Small agency with a family feel