When a child come into care they will have experienced loss.  This could be having to leave their families, or because they have had to move from another foster family.  In some cases children can have had multiple placement moves from family to family which can lead them to be mistrustful of adults.  It's in these circumstances that pets can help.
We have witnessed first-hand children forming close bonds and attachments with family pets before establishing bonds with foster family members.  But once the attachments are made with a the family cat, dog, rabbit or lizard it makes it easier for children to relax in their new home and start to build trust in their foster families too.
Pets can have numerous benefits for children, from health benefits to increasing a child's confidence.  Find out more.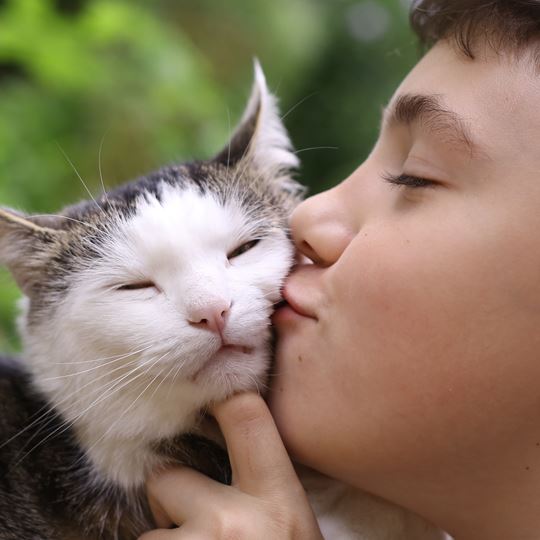 Are any pets considered unsuitable for fostering?
We will consider most pets as ok when you are looking to foster.  By law we only consider legal animals, including dogs, so if you own a dog which is banned by law in the UK we won't be able to consider you for fostering.
Because your pet is part of your family, we consider them as part of your assessment to become a foster parent.  We'll consider the temperament of your animal and depending on what pet you have, for example a dog – we will contact your vet to ensure that vet has no concerns about your pet or your care of them.
As long as your pet is well cared for and friendly, they are likely to make great foster pets!
Want to know more?
Below we answer specific questions in relation to different circumstances, or if you would like to take your first step to becoming a foster parent - we'd love to hear from you.
What else should I consider if I have pets?
Sometimes we won't know prior to placement when a child comes to live with you that a child is afraid of animals or may present a risk to your pet.  We also ask our foster parents with pets to be especially vigilant with children and animals, and not to leave them alone unsupervised.
The benefits of pets for children in foster care.
Pets can play all sorts of different roles for children.  They can be teachers, friends and believe it or not even doctors!
Health benefits
A family pet introduces children to a whole range of bugs and bacteria.  By living with these animals we share these bacteria which help provide a natural boost to the immune system, but even more than that, it's been shown that children growing up with pet, in particular dogs as less likely to suffer from Asthma.  If you have a dog too which needs regular walking, this can increase the amount of exercise a child take compared to children who don't take these regular walks.
Benefit of routine
Many foster children have often experience some element of chaos in their lives, most children come into care due to neglect, which means they haven't had consistency and routine that helps children to thrive and feel safe and stable.  Animals of cause, like children need routine and the day to day consistency we provide to pets can be very comforting for children as they settle into a new family.  Even better, getting children involved in the care of a pet, can help children to learn how to care and be kind, which are essential life skills some children in foster care haven't had the advantage of learning from past role models.
Stress benefits
The act of stroking an animal has been proven to release oxytocin, serotonin and dopamine into our blood stream.  All these feel good hormones, means that our blood pressure falls and we feel happier and less anxious.  For many foster children this can be a great benefit, as moving into a foster home can be a stressful and anxious time for many.
Regular supervision with your very own dedicated social worker
Generous fostering allowance and bonuses
Local support where you need it
Small agency with a family feel